Project Description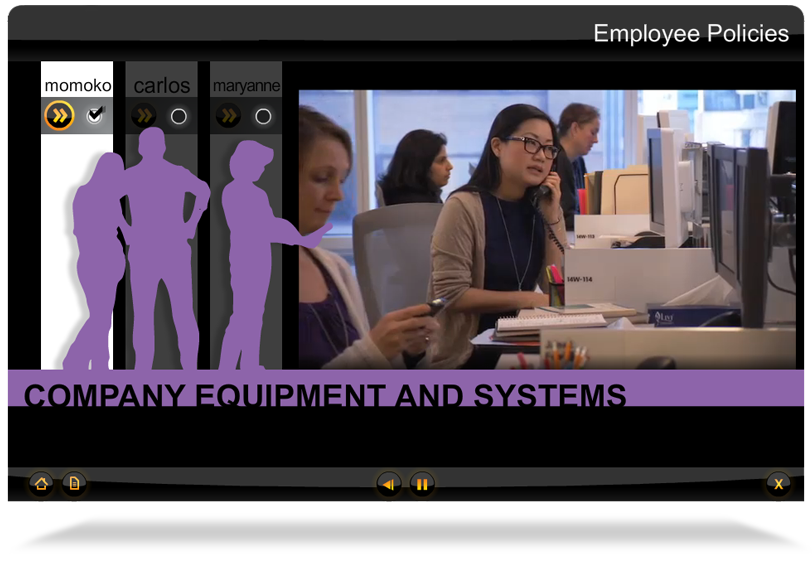 THE CHALLENGE
It's no secret. Global employee policy can sometimes be difficult material to get excited about. But because it's so important, this global financial services provider tasked us with turning around this all too common perception. All company employees, regardless of seniority or status, are required to complete this training. With such a wide scope of audience and potentially mundane subject, we welcomed the challenge of developing an engaging experience – one that anyone would find fun and exciting.

THE SOLUTION
We were happy to help this client put the days of drowsy classroom training and lawyer-soaked binders behind them. Our solution was to create a series of highly relatable scenarios centering on recurring characters with intertwining storylines. First, we developed a cast of characters. Though each character would be unique, with a wide range of cultural diversity, we knew the key to relatability lay in the commonalities these characters would share in the workplace. Focusing on the similarities, and not the differences, allowed us to engage all of the broad targeted audience. We next devoted ourselves to quality storytelling to bring our characters to life in an engaging way. We then had to determine how best to deliver the stories. Since realism of situation and personality was our approach, we found that using live action professional actors was really the best option.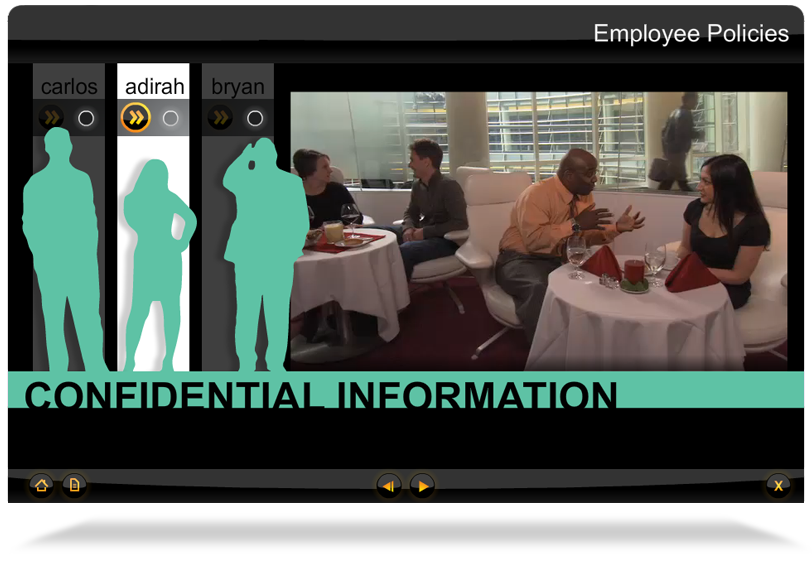 Behind the Design: Navigation and Transition Effects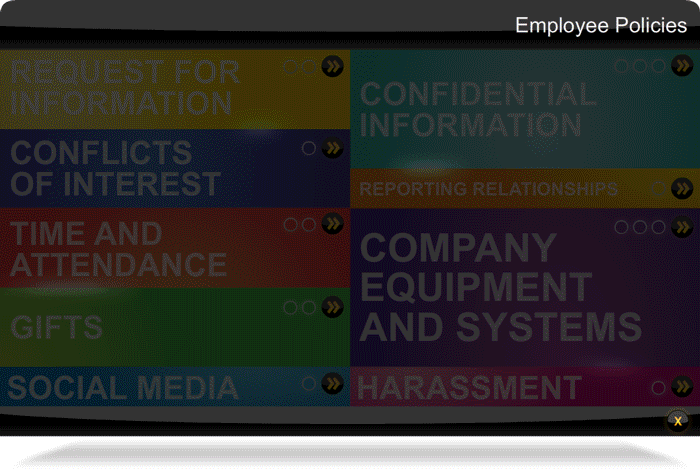 Though this client deals in the serious business of finance, they have a unique identity that is bold, colorful and playful. We embraced these traits and divided the course into sections representing each of the nine policies. The dimension of each section corresponds to the desired focus placed on that policy. Each policy is then divided into one to three scenarios each telling a character's story. Scenarios can be completed in any order and check marks indicate which scenarios are complete.
The resulting navigational approach is unique, simple and intuitive. The compact design distributes a relatively large amount of information with limited clicking and is intuitive enough to be used without the need for additional instruction.
A smooth swipe of a graphical hand transitions to the individual scenarios of any particular policy. Each scenario is represented by an animated silhouette of the feature character along with their name. Details of the scenario are adjacently displayed on hover.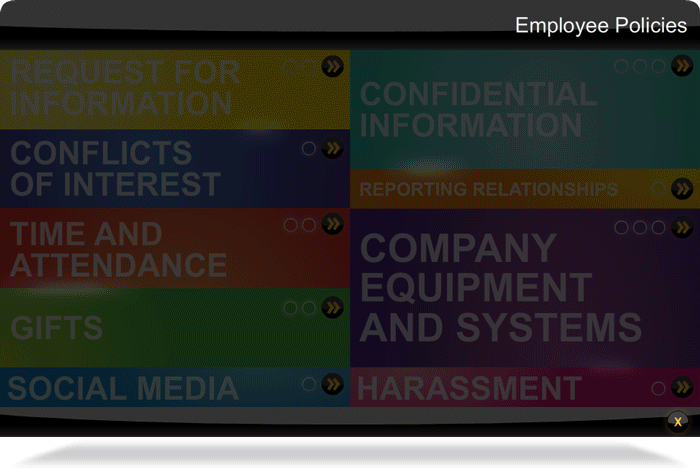 Behind the Design: Merging Live Action with Graphic Design
In order to bridge the gap between the live action video and the design of the course we used our actors to generate complimentary graphic animations. Let's have a look at how we took the design from concept to reality with one of our characters, Maryanne.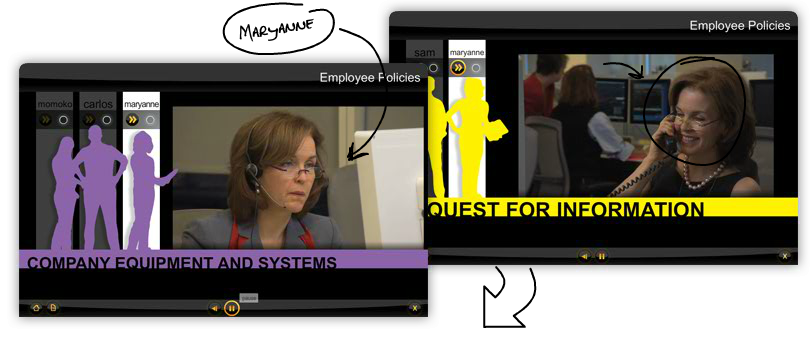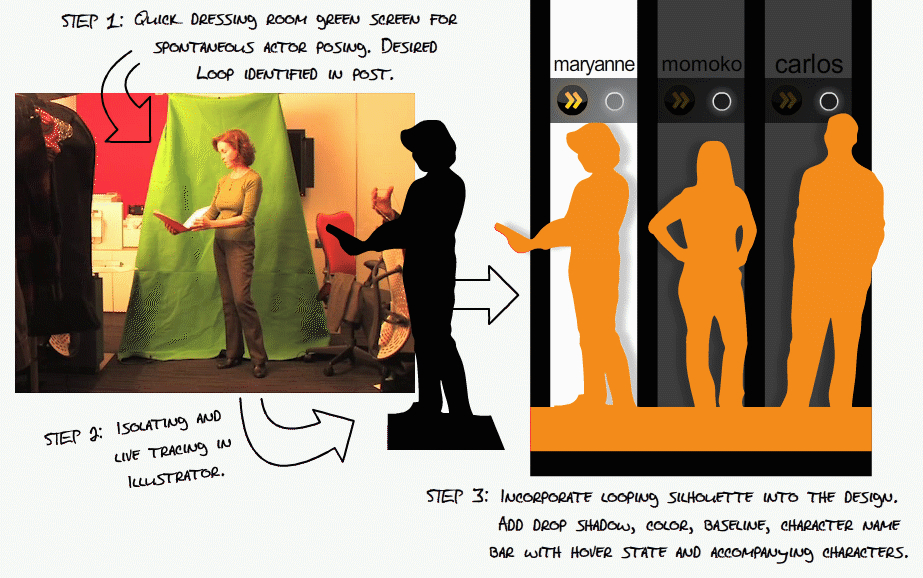 THE OUTCOME
The client has experienced a significant and quantifiable compliance increase to their global corporate policies. Policy adherence behaviors have been improved across the company's global staff. And, enthusiasm for policy training as a whole has been on the rise according to training facilitators with fewer resources needed to achieve maximum participation.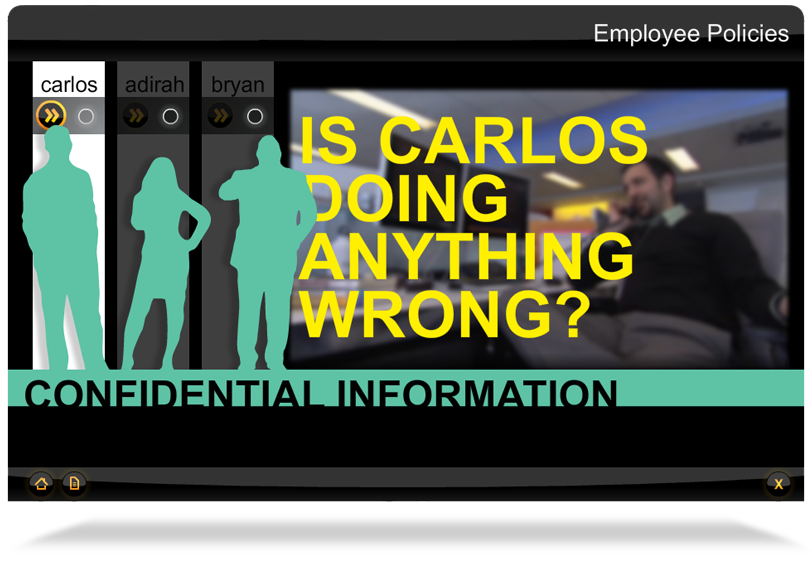 Scenario Based Learning