Project Description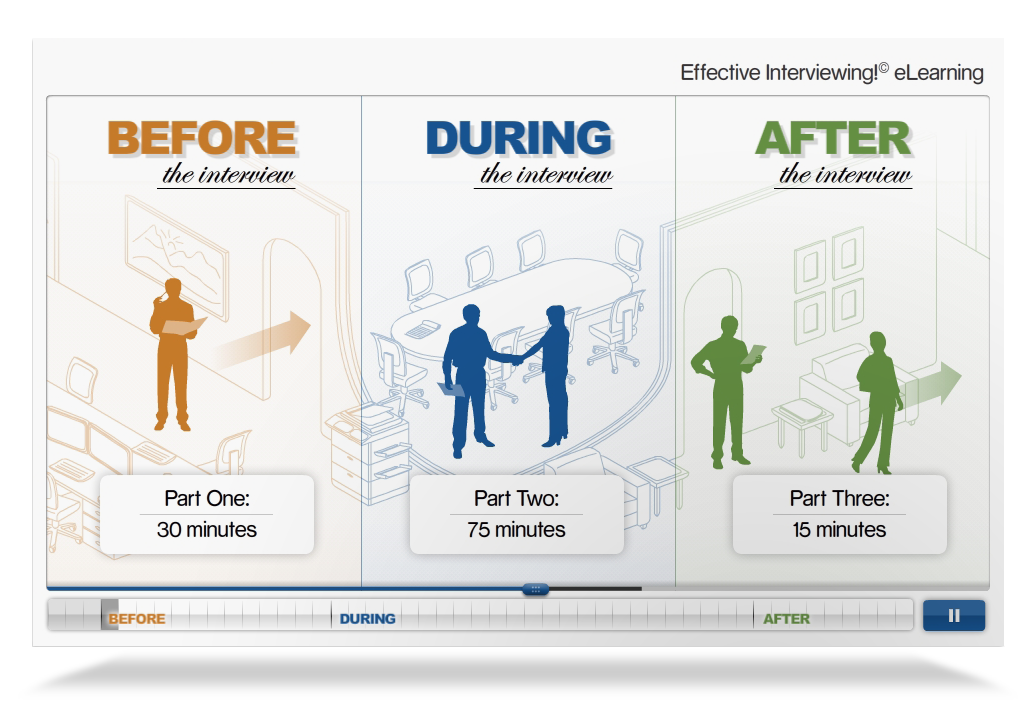 THE CHALLENGE
This Human Resources Training organization had developed a highly successful, multi-day classroom training session on a proprietary effective interviewing process. Though the classroom training was effective, the client realized that it was not a scalable model, and, in fact, their customers were clamoring for an online version. They created a very simple eLearning conversion of their classroom content. They recognized that this version did not do justice to the outstanding content nor did it offer multi-device delivery. They wanted a course that offered creative and innovative design, interactivities and multi-device delivery. And, they wanted it all within a very tight budget.

Behind the Design: Talking UX
The ultimate goal for our UX designers is to craft the simplest, most intuitive and low-profile user interface possible. And true success is reached when there is no need for tutorials and instruction. We think our designers did a great job of streamlining the complex for this project.

THE SOLUTION
KMi took the existing online course, evaluated it for instructional design, graphic and navigational effectiveness and level of interactivity. We then made specific recommendations as to how we would approach each of these elements. The course was then adapted, refined and altered to create an exceptional example of interactive instructional design using engaging testing and scenario techniques. Additionally, we used HTML5 to enable the course to be delivered across platforms, whether PCs, Android or iOS.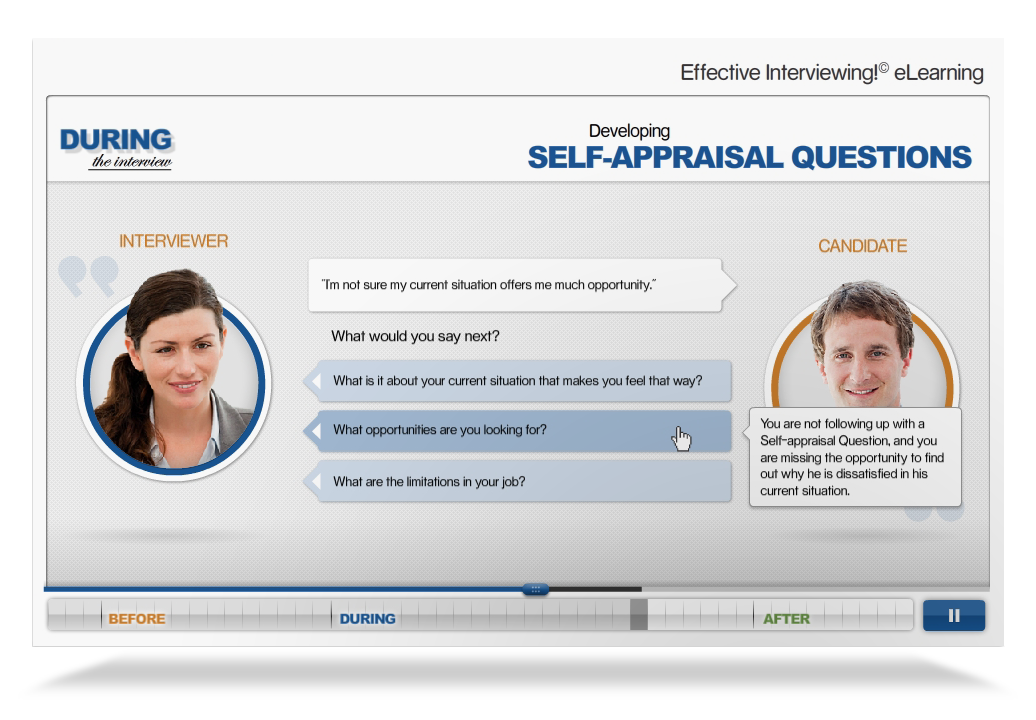 Behind the Design: Complex Custom Interaction
The tools and processes involved in the interviewing process are quite long and complex and proved to be a welcome logistical challenge for our designers. The multi-faceted, multi-layered elements were carefully evaluated, broken down and reconstructed in intuitive and easy to navigate interactions. We also developed real-time scenarios for users to test their skills and preparation effectiveness in the form of activities such as the Red Flag Game.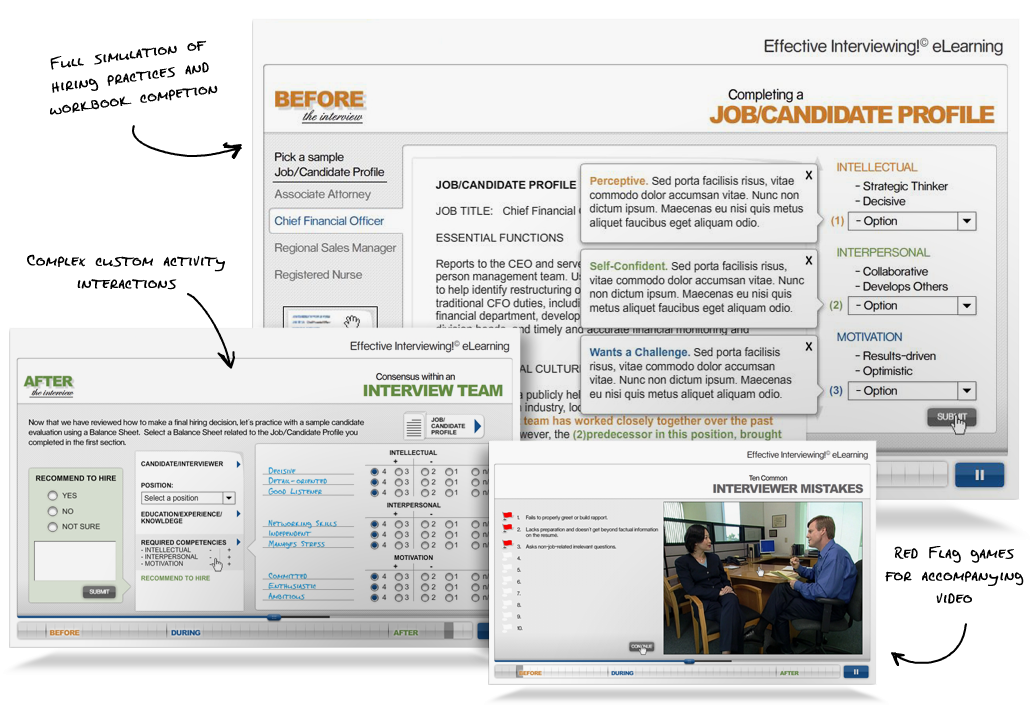 THE OUTCOME
The client has been pleased to see a large increase in customer registrations for the online version in concert with very positive feedback. Not only has this added revenue for our client but it has added value for their customers. And, even more exciting, many customers are now requesting customized versions that reflect their specific company and related scenarios wedding them even more closely to the proprietary content.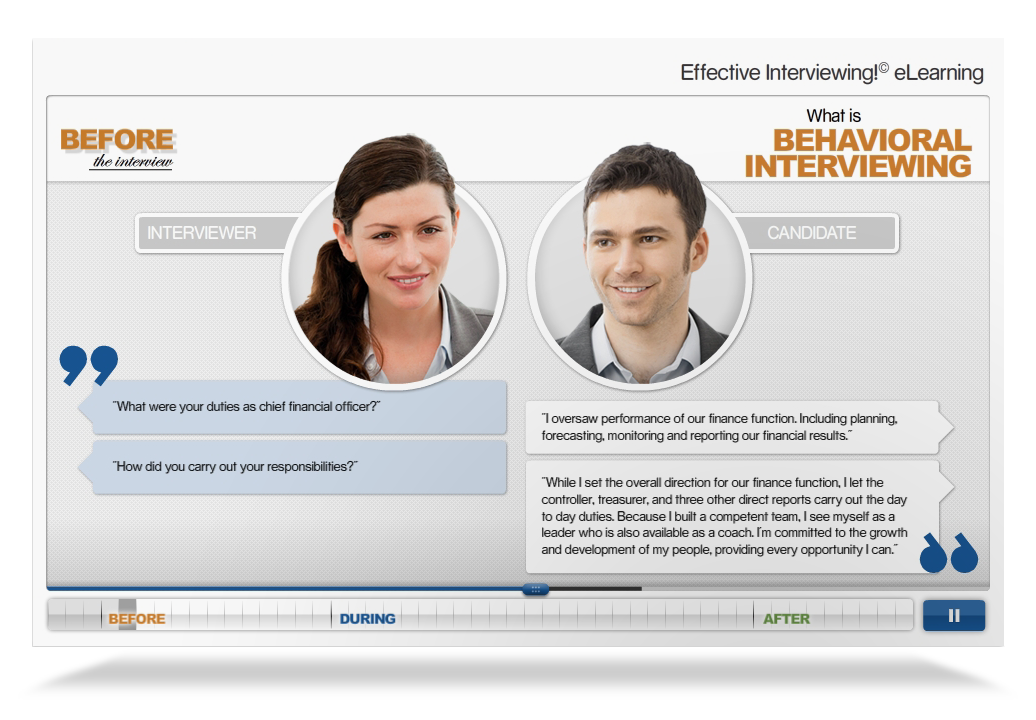 Behind the Design: Seamless Cross-Platform Compatability
In using HTML5 our developers ensured that the course was compatible and scalable across all platforms and browsers while retaining the full functionality of the sophisticated navigation and interaction that the project demanded.