Project Description
THE CHALLENGE
Information security is the foundation of this 24/7 financial services provider's business and the importance of training its' employees is paramount. As part two of the training initiative (the first focuses on existing employees and managers) the challenge of this course is to cover a broad audience of diverse backgrounds, responsibilities and roles. The client wanted an experience engaging enough to make the material fun for all in their organization.

THE SOLUTION
The KMI design team wanted to create a very relatable experience, no matter the employee's position in the company – from mailroom to boardroom. The solution was to develop three characters with diverse yet non-specific roles. Silhouettes in the bright colorful style of the corporate branding enforce this anonymity while achieving a degree of fun vibrancy. The characters' stories are told in the style of "a day in the life" at the office and their paths intersect in various ways. This approach is simple enough to appeal to the newly hired employee, possibly on their first day, as well as someone who has been on the job for a longer time.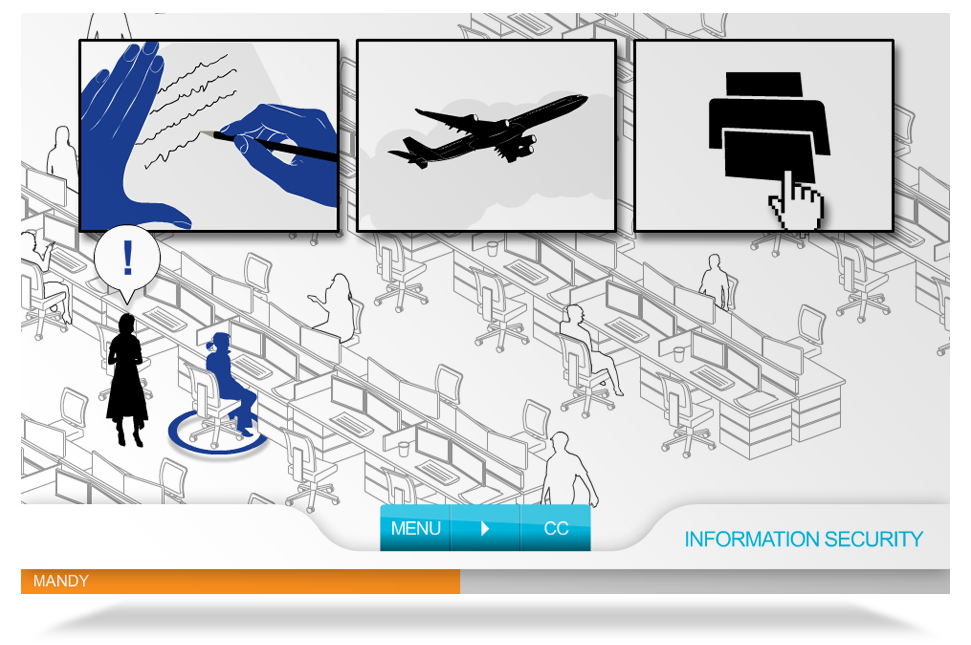 Behind the Design: The Full Floorplan
To create the most realistic environment for the three characters to interact with the KMI design team developed a full office floor plan composited from a number of the client's actual offices. "It's a space that would be instantly recognizable to any employee," said the lead project illustrator. "There are fish tanks embedded in the walls, distinctive floor number displays and curvy modern couches that really define the style of the company."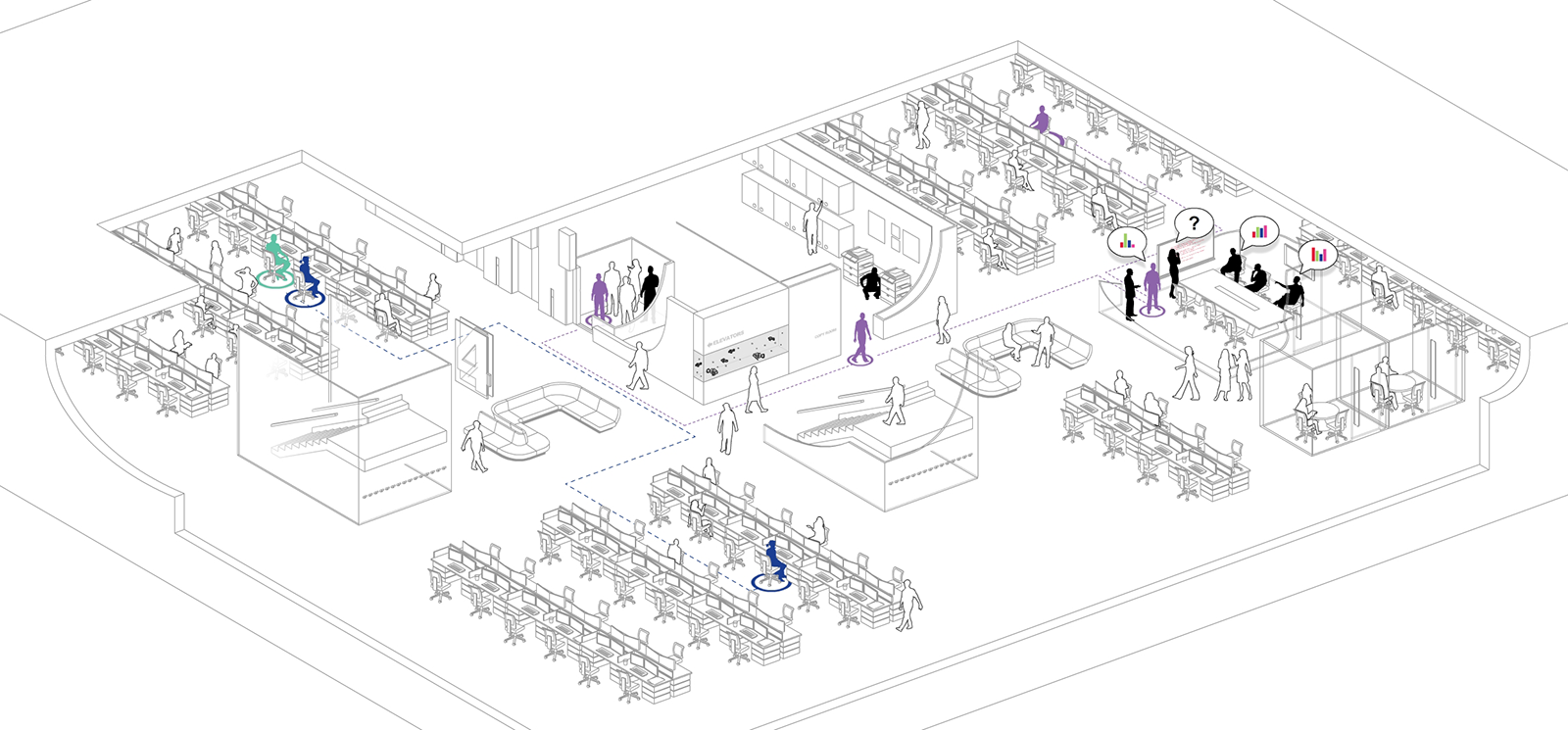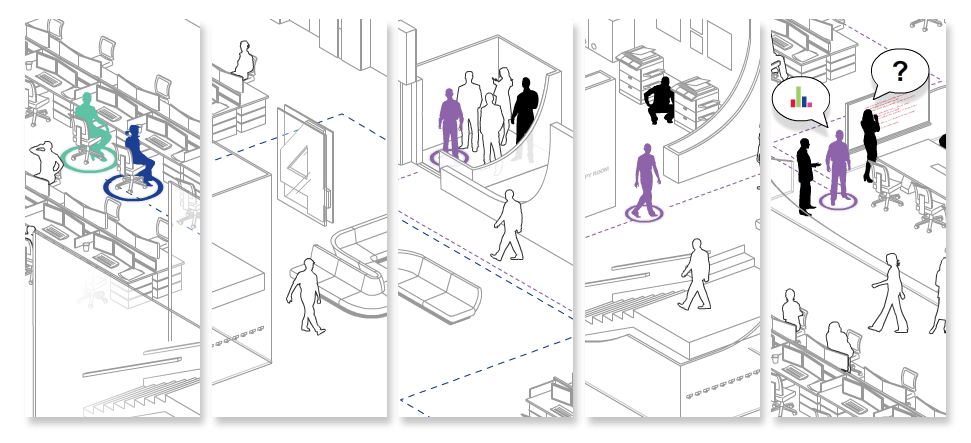 THE OUTCOME
The client has experienced a significant and quantifiable improvement to overall corporate information security and a decrease in information security related incidents. By all measurable accounts, formal and informal, the down-to-earth approach has created increased completion rates and a rise in general enthusiasm to training among all new employees to the company.
Behind the Design: Simple Questions, Complex Feedback
While the subject of information security is rather complex, the decisions being made are relatively simple. After the user is presented with a scenario, they are asked whether or not the situation is problematic. The answers, however, are not simply right or wrong. Each scenario has many caveats. The feedback that is presented is conditional based on how the user answered. KMI also recognized this as an opportunity to dive deeper into the material. Once the initial feedback is given further explanation is offered. Next, options for non-mandatory, additional learning are made available utilizing a tabbed interface in the same feedback window. This is a great way to place a wealth of information at the users' fingertips without the need to navigate away from the course window. The pace of the learning then remains in the users' control.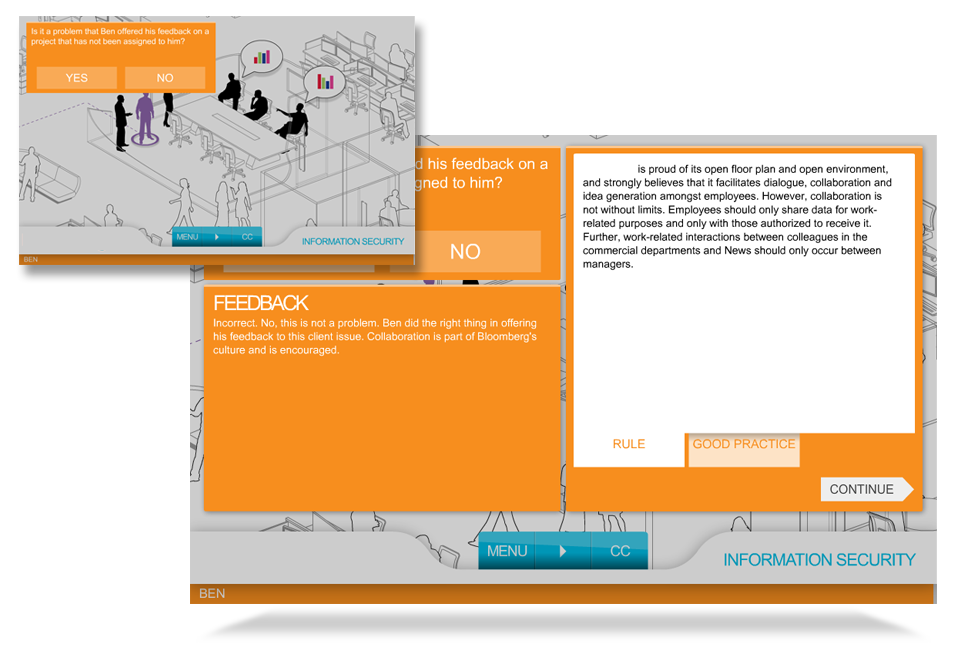 ---