What sets PowerLift® apart from other training . . .
. . . is that we teach a technique that doesn't just work in the classroom, but on the job. With our unique training approach, your employees will learn from the outset how to use PowerLift® on the job each and every day. And they will understand why the PowerLift® techniques are better than the old way of lifting. We have been teaching our unique patented techniques for over three decades.We have powerful, customized programs for organizations of all types. By implementing our system, our clients have been able to significantly reduce the number of strain/sprain injuries sustained by their employees.
Nearly 500,000 employees at over 800 organizations trained!
TRAIN THE TRAINER
You have your choice of either online or live onsite Train the Trainer courses that will certify your employees as PowerLift® trainers.
ONLINE TRAINING MODULES
We offer engaging and effective online modules for training trainers and for all of your employees.
SAFETY TALKS
Over 1200 individual, fully illustrated one-page guides covering hundreds of activities in various industries and settings.
Testimonials
"Using PowerLift® 13 years. Very effective program. In addition to lifting, they also teach ergonomics for hands/stretching."

Dan Hirsch

3M Engineering and Safety Manager
"This is a bold statement; we do not have back injuries in my plants."

Jeff Fields

EH&S Director Pfizer Pharmaceuticals
"PowerLift® Training reduced OSHA recordable injuries from 15% to 5.5%."

Brad Mason

USPS Regional Safety Manager
Industries
Agriculture
Air Cargo
Airline Ground Workers
Aircraft Maintenance
Car Rental
Concrete Workers
Construction
Custodial
Day Care
Electrical Utility Workers
Fire & Rescue
Freight Haulers
Grocery
Highway & Road Maintenance
Home Health
Hospitality
Industrial: Heavy
Industrial: Light
Household Task
K-12 Education
Long Term Care
Machine Maintenance
Maritime Shipping
Moving & Storage Workers
Office
River Shipping & Barge
Surgical & Clinical
TSA Workers
United States Postal Service
Warehouse & Distribution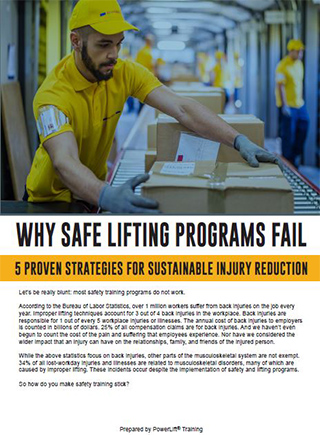 Check Out the New PowerLift White Paper
Read our new white paper 'Why Safe Lifting Programs Fail' to learn these 5 proven strategies for sustainable injury reduction.
Click Here
PowerLift®
SITE LICENSE
The site license allows certified trainers to conduct unlimited training sessions and use training material at no additional cost for two years. The materials include:
A Training and Coaching guide
One license for the interactive Online Overview course that can be shown in a classroom setting
A PowerPoint Presentation to help guide your in-person training sessions
Access to a library of over 1200 Safety Talks which are customized to your industry, some that apply to virtually any industry and even some that apply to lifting activities outside of work and more!
PowerLift®
TRAIN-THE-TRAINER COURSES
You have your choice of either online or live onsite Train the Trainer courses. After your trainers have completed the Train the Trainer course and become certified it's time to apply this to the real world.
Your trainers train your people by doing their tasks in their environment, whether it be at the job site, distribution center, factory, or healthcare facility. PowerLift® material handling safety training can be applied to virtually any work environment.
Safe Lifting Training and Tools for Fire and EMS
PowerLift and Levigait have come together to create a safe lifting program for Fire and EMS.
Learn More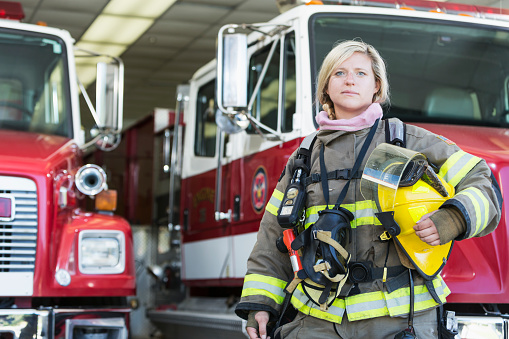 PowerLift® Material Handling Training Courses
Tools for Continued Learning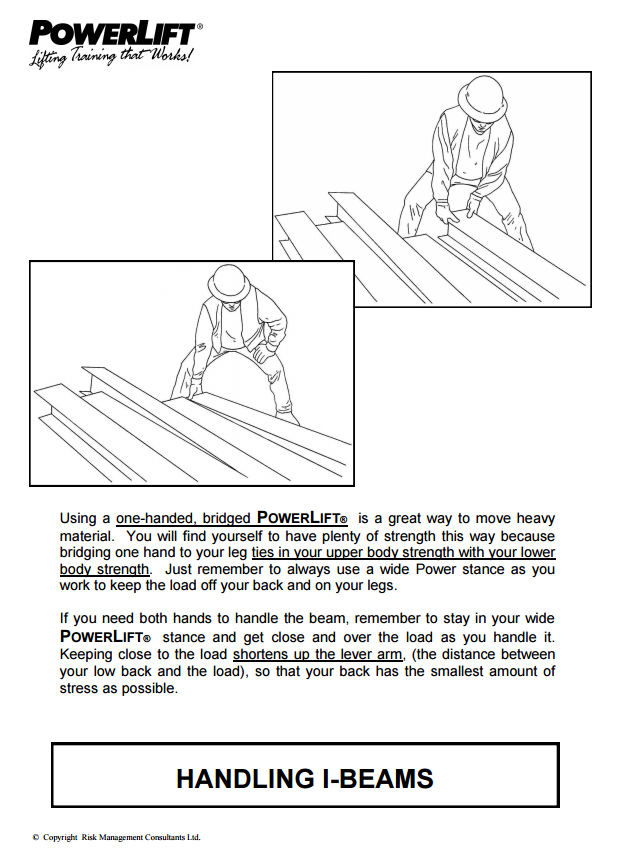 Safety Talks
Over 1200 individual, fully illustrated one-page guides covering hundreds of activities in various industries and settings. The Safety Talks are designed to be used as a supplement to the training. They serve as a reminder on how to properly use PowerLift® techniques while performing various at work and at home tasks.
Online PowerLift® Training Module
This unique and engaging online module will give your staff an overview of the PowerLift® Material Handling safety system. It can be used as a freestanding module or as part of a blended learning program with the Train-the-Trainer packages. Easy to create downloadable reports will show who has completed the module, and how well they did on the assessment. Additionally, KMI will assist in creating accounts for all your employees. The module is available in both English and Spanish.
See it in Action
PowerLift®
Materials
Physical PowerLift® materials help keep proper lifting technique top-of-mind for you and your employees.