Responsive and streamlined, the new KMI Learning Mobile LMS is as powerful as ever but very easy to use. User experience has been our focus and elegant simplicity is the result. We consider administrators users as well.  The new redesigned admin interface enables you to manage users and content with ease on the desktop, with your tablet or even your smartphone!
*Learning Management System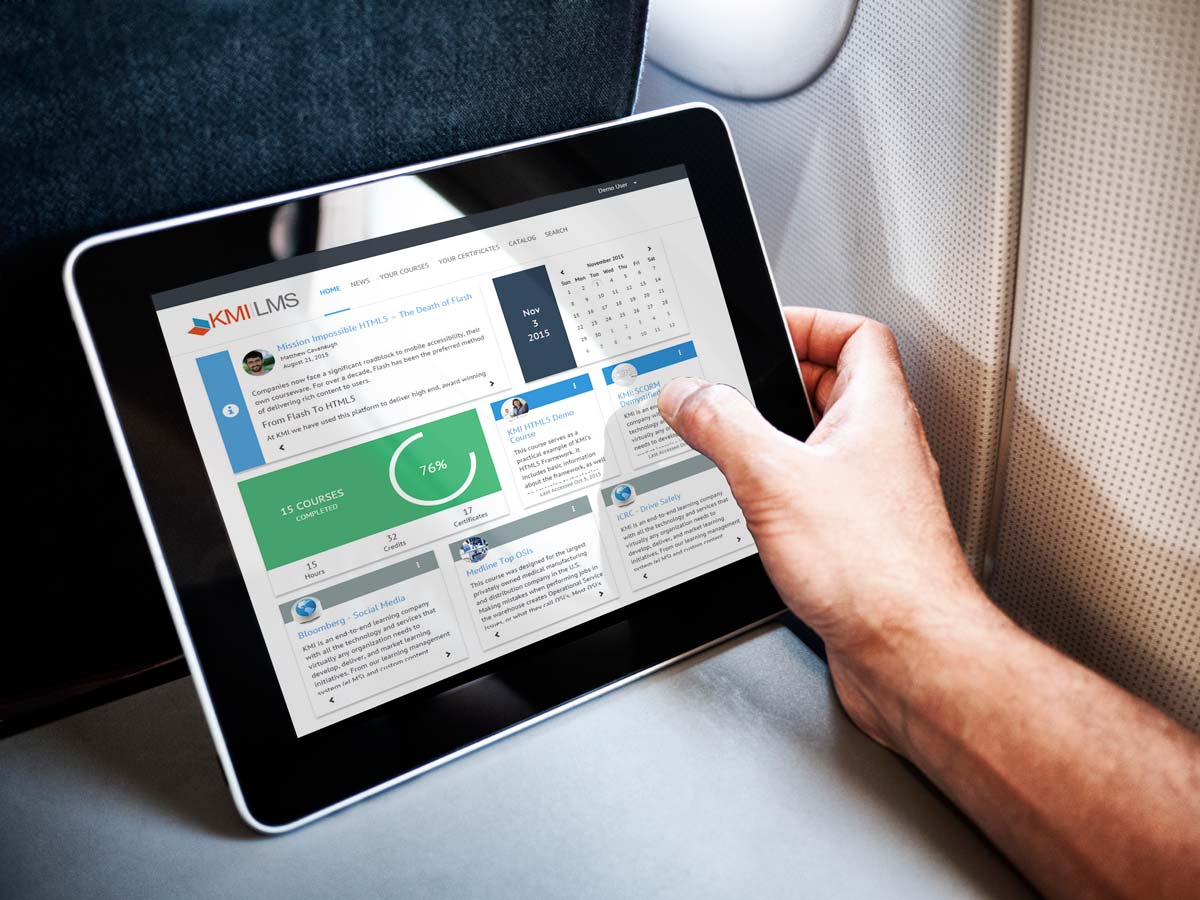 It's no secret, mobile learning is here. However, we like to think beyond mobile.
A mobile LMS by itself can be rather limiting, and fragmenting. What we're really talking about is a user's ability to access learning anytime, anywhere, on any device. An experience that is both unique and familiar to every user and administrator. A solution that simplifies strategic development and tosses aside the limiting boxes of "Desktop" and "Mobile". Not just  Mobile  Learning – Anywhere Learning.
You might be very familiar HTML5, or you might not. But HTML5 is here and it's the future of both elearning content and the mobile LMS interface itself. What's so great about HTML5? First of all, it's a new standard that was built from the ground up to address modern needs of rich-media delivery, scalability, and most importantly the use of mobile devices.
HTML5 is a simpler more elegant markup language than its predecessors. This means that it is faster for browsers to read and load content, and it is also faster for our developers to program. So functionality, speed, and efficiency increase while development time and cost go down.
We're also now free from third parties when it comes to pulling off things like animations, video, and audio. Where there was no choice but to engage in Flash or Silverlight development, there are now native HTML5 tags that can be used to build the same content. Again, faster, easier, simpler, and even more beautiful.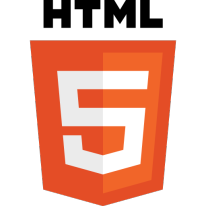 IT'S ALL ABOUT THE BROWSER
While HTML5 is here, it is a new technology. This means that older browsers simply aren't able to interpret, or run, HTML5 – and even some newer browsers have varying levels of HTML5 support. What's great about the mobile space is that all mobile browsers are already hip with HTML5; there's simply too much growth and competition not to be. But on the desktop, some still lag behind, and users are a bit slower to consistently jump into newer browsers and technologies leaving their familiar old browser behind. HTML5 applications do require a modern, up-to-date browser capable of supporting the full HTLM5 specification. And while there's still a gap in adoption between Desktop and Mobile, this gap narrows every day.
"Responsive" is another buzzword going around right now, and for good reason. What is a "responsive" design? It's just that – a design that recognizes the device that you're using and responds accordingly. For example, if you're using an iPad, our Mobile LMS  recognizes this and uses the full screen to show both Course Details and Navigation menus. However, this would be too much for an iPhone, and the KMI Mobile LMS knows this. On an iPhone the same page will collapse the Navigation menu into a pull-out side bar, and reorder the Course Details content into a more vertical layout. Simple, elegant, and all within a single page. There's no need to develop different versions of the same page for different devices. The Mobile LMS  provides one interface to rule them all.
We believe that Web Apps are the way to go, and will become the standard over native apps as we move forward.
Why? The primary consideration again comes down to being device-agnostic. When building native apps for the iPhone, the iPad, an Android phone, a Windows Phone…. you end up having to write different version of the same application in order for it to run properly everywhere. With a Web App, running on the HTML5 standard, you free yourself – and your budget – from having to account for every possible device out there.
However, there are still some business strategies that call for a packaged, downloaded native app. No problem. We have the ability to zip up our Mobile LMS  into an iOS or Android compatible app for distribution in the stores. With KMI's LMS your options aren't limited.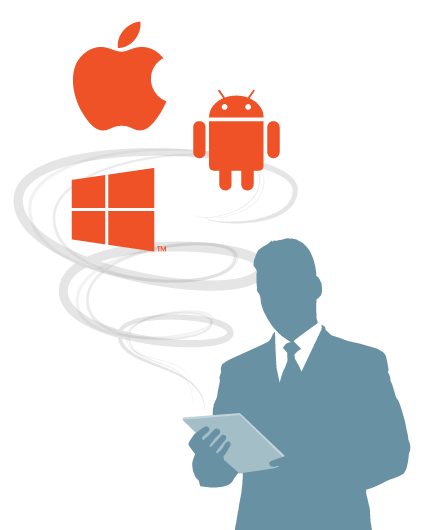 So, you know that we can deliver content anywhere on any device (through our LMS and LMS Anywhere) and that we have the technology (HTML5) to create multi- device deliverable courses. But, what kind of content is best for mobile delivery? That question is best answered by your learner audience. Do you have sales teams who need to access training on the road? Do you need to provide compliance, legal or process updates immediately? Do you have products that change frequently? Do you want to excite your learners with frequent bits of knowledge to help them perform better? Or maybe, you want to challenge your learners with games and simulations.
We can help you develop the appropriate type of learning for any device. Whether it is simple presentation materials, just-in-time information or more complex media – rich and interactive productions, KMI Learning has just the creativity, technical skill and instructional design talent to bring this learning to life.
Anywhere on any device.