The KMI Learning Extended Enterprise LMS* is a powerhouse White-Label LMS application wrapped in an elegant and easy-to-use interface. Whether your business is a startup or an enterprise with the KMI LMS you can deliver custom Training Programs, sell content, manage multiple groups or clients, run reports, distribute permissions, and more; all from any device on any platform.
It's your company and your content. It should look like you. Easily add a custom logo to your groups and use thumbnails and hero images to highlight your brand. Every implementation can support a custom style to incorporate your color pallet and font preferences.
At KMI we take customer service seriously. Every customer is assigned a dedicated Implementation Manager that is focussed on the success of the initiative. We treat every client relationship as a partnership not a product.
Zapier Integrations (coming soon!)
With Zaper the KMI LMS can integrate with any other platform within the Zapier ecosystem. Do you use SalesForce and need to automate account creation or receive completion data from the LMS? Done. Hubspot? Easy. Zapier lest you make chains of interactions performing any custom integration you can imagine linking the KMI LMS to other applications like Google, Zendesk, Stripe, MailChimp, Facebook and more.
With the KMI LMS you can invite 3rd Party Course Providers into the site to build and manage their own content (teachers, coaches, SME's, etc). Build out different groups for different workflows, provide clients with limited administrative rights, and manage it all from a master admin account. Custom domains, client-style sheets / branding and even custom login pages can be built into an implementation.
We welcome custom development projects!
This is what really sets KMI apart from the others. We are willing to face and overcome any integration or customization challenge. Do you doubt that? Try us!
Easy for learners is a given. KMI takes it a step further. It's also easy for admins. After all, admins are people too. They shouldn't have to click 18 times on seven different pages to make a course live. (C'mon big pig LMS. You know who you are)
A few dozen to a couple million; the KMI LMS can and will handle as few or as many as you need it to.
With the KMI LMS you can sell courses to users and have all transactions posted directly to your Stripe Merchant account.
An easy report builder and a graphical dashboard. And if you need to really geek out on reporting, we've got an ad hoc builder in the classic (read "old") mode.
Within the KMI LMS you can build content from SCORM 1.2 files, plain Documents, Video or even External Links. Run classroom Live Events or add your virtual Zoom, Google Meet, WebEx, GotToMeetings or MS Teams information for virtual events. The KMI LMS also supports light integrations with Google Drive and Office 365 to handle rapid course.
Certification & Achievements
Users can earn custom e-Certificates as well as group-based Badges by completing courses in the LMS. Users can also see how they rank on a points-based Leaderboard against other users within their group.
Uhhh. Yeah. Of course, it's mobile ready. No LMS worth its salt isn't mobile ready these days. (Some aren't though). KMI takes a "mobile first" approach to all UI development so the LMS is easy to use on any device.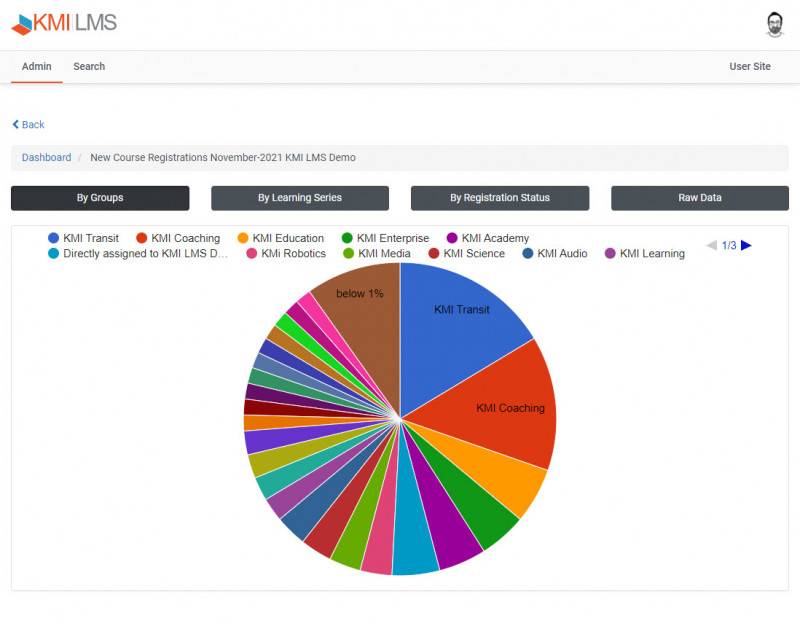 The KMI Learning LMS provides all the reporting tools you need to access your data, your way. After all, an LMS is only as good as the data under the hood. Our LMS provides three core tools that provide access to your data.
A mobile LMS by itself can be rather limiting, and fragmenting. What we're really talking about is a user's ability to access learning anytime, anywhere, on any device. An experience that is both unique and familiar to every user and administrator. A solution that simplifies strategic development and tosses aside the limiting boxes of "Desktop" and "Mobile". Not just Mobile Learning – Anywhere Learning.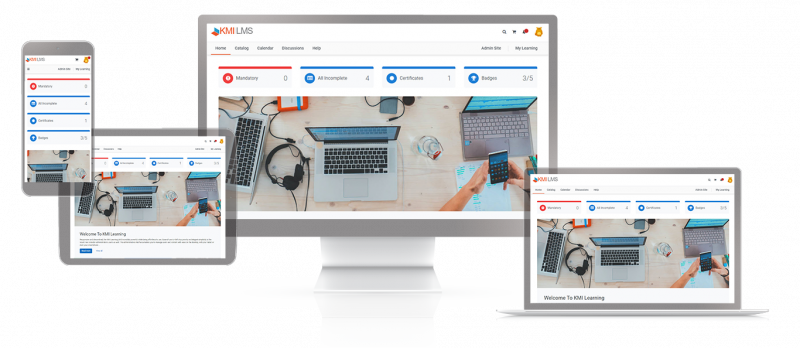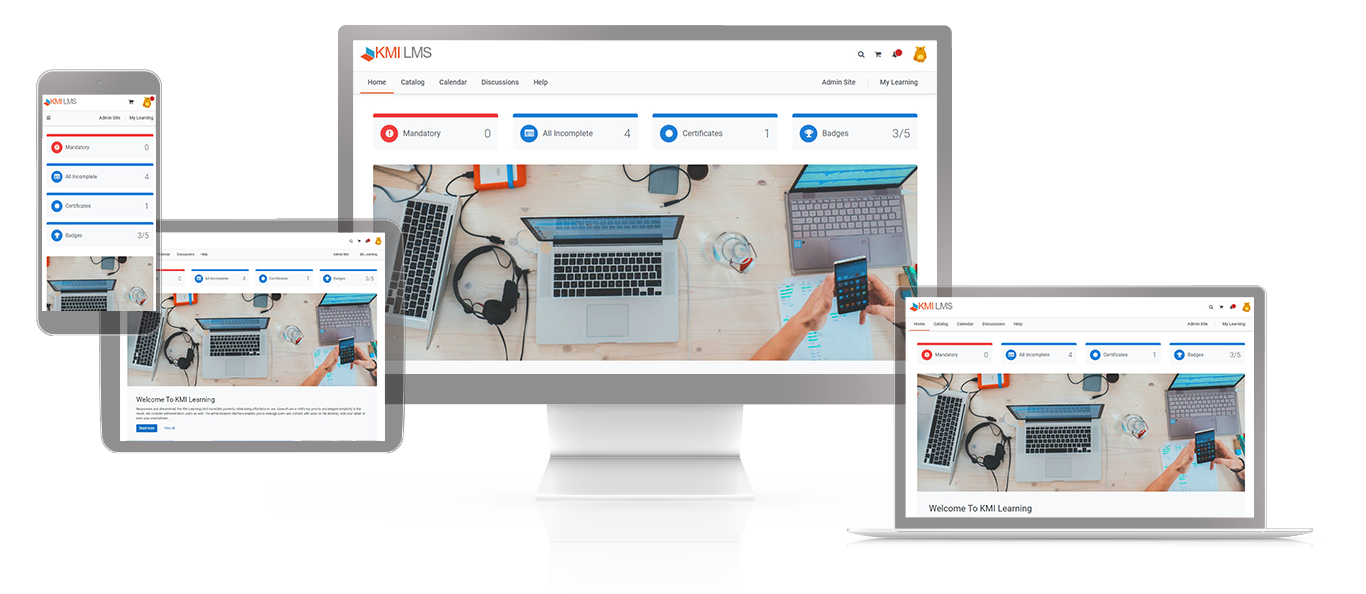 Group-based: At the heart of our LMS is the useful manner in which you can arrange your learners into groups of your own design. Arranging and relating these groups allows you to perfectly control use and visibility of site resources. One group of learners might have a different course portfolio from another, or even a different selection of site features.
Custom user attributes: You can define user categories yourself, and organize your learners in your own way. Almost every client has custom categories for their learners. For example, knowing the region, office, hire date, or line manager of learners can be helpful in your reporting.
Simple learner management: A user can be added in just moments from an administrative menu. Or you can allow self-registration to your site by giving an access key to your new learners.
Bulk user management: When you need to make changes to many user records, the LMS offers bulk management tools to simplify your task. For example, adding ten thousand users is as easy as putting them in a spreadsheet and importing them directly to the site.
Approval management options: Course registration can be made freely available to users, but you have the option of restricting some access to only those approved by an administrator. This can be handy, for example, to ensure your web seminar courses aren't oversubscribed.
Simple and powerful course management: A course can be added with a minimum of information – add a name, drag-and-drop your content, and enter only a few simple fields. Adding a new course takes seconds! The course administration can expand to meet your advanced needs, such as course certificates, prerequisite requirements, price, and restricting access to private groups.
Advanced Course Ownership: Do you have a need to onboard different groups of content publishers (in house or even 3rd party) to publish and manage their own content in the LMS? By creating Organizations with specific members any groups can own and manage the content they add to the LMS; all while remaining under your administrative oversight.
Multiple course types: The LMS offers many functional course types to meet all of your eLearning needs. With the KMI LMS you can build course records using SCORM 1.2 packages, Videos, Documents, External Links and even run your live event classroom or instructor events.
Advanced Online Course Types: Need support for SCORM 2004, AICC, xAPI or cmi5? The KMI LMS can support these formats as well – reach out to us for details!
Live Event Management: From single-session events to multi-day events with different sessions, locations, or instructors, every kind of live event can be managed with the LMS. Even Virtual Live Events can be managed in coordination with your existing Zoom, Google Meet, WebEx, GoToMeeting, or MS Teams room.
Collections: A collection is a custom set of courses that you can group into a "parent" course to deliver a program, learning path, or learning series. Collections are extremely flexible and provide a simple approach to deploying larger programs using simple course records.
Assessments & Evaluations: With the KMI LMS any course record can move the user through a graded pre-assessment, a graded post-assessment, and an optional or mandatory evaluation. Assessments can be a critical part of your certification program, requiring the user to pass the assessment before they earn the certificate.
Stand-alone Exams and Surveys: Though any course can have an assessment (graded questions) or evaluation (subjective questions) attached to it, you can also offer these types of questions as stand-alone Exams and Surveys, tracked by the LMS alongside traditional courses.
Roster tools: Every Course Roster provides a clean, intuitive interface to view all user-registration data. Quickly filter the roster to view specific statuses (Completed, In Progress, Not-Started, etc) and use special tools to bulk edit registrations, set mandatory requirements, and email learners directly. You can also assign learners directly to the course roster in bulk to speed up your training requirements.
Collections: A collection is a list of courses that you organize according to a theme or subject area. They have great utility for learners, who can explore a subject or skill without having to search for relevant course content.
Certificates: Many clients like to supply certificates of completion to their learners. Not only does the LMS offer such certificates, there is also an on-site certificate design tool to change the fields, add graphics, and fully customize the layout of the certificates.
E-Commerce Capable: The KMI LMS can easily leverage an existing Stripe account in order to sell individual courses directly to the end-user.
An Easy Report Writer: You can create as many reports as you wish based on templates. You can easily filter and schedule reports for weekly or monthly automation.
Dashboard: On the Dashboard, you get a one-page display of the most interesting learning benchmarks. Adjust your parameters (like date ranges) on the left, and on the right – more than a dozen important metrics are updated.
Custom reports: If you have specific report needs, KMI can build custom templates for use in the Easy Report Writer.
Accessibility: KMI builds and tests our LMS against the WCAG 2.0 accessibility standard. If you would like to review our VPAT to learn more, reach out to us!
Distributed Administration: Administration of the LMS can begin with the simplest manner – a few administrators can exercise all roles over the site. However, many clients like to delegate admin tasks as the site grows. Administrative tasks, such as course and user management and reporting, can be broken down into distinct roles on the site. These can easily be entrusted to many 'local admins' for smaller groups of learners.
Web services: The LMS has a potent suite of secure RESTful web services. Your own system can query them to obtain up-to-date information on users, courses, and course activity.
Pass-through integration / Single Sign On (SSO): Many clients have created a seamless integration between their own sites and the LMS by taking advantage of industry standard technologies such as SAML or OpenID Connect. These standards provide robust documentation, security, and reliability to the project.
Vast experience with custom integrations: KMI has had great success in creating integrations with dozens of clients, many of them custom solutions. KMI is happy to explore expanding or customizing our standards-based integration offerings to meet your project needs.
Mobile Ready: The KMI LMS is fully responsive via an HTML5 interface designed to respond to any screen size on any device. All features for users and administrators can be performed easily on mobile devices and desktop.
White Label Branding: KMI never forces our branding into your implementation. We can develop a custom look and feel for all of our clients' unique needs.
Support for multiple domains and portals: when running outward facing academies it can be critical to be able to offer custom branded sites to subscribers. A single KMI LMS implementation can handle as many portals into the LMS as needed.