Telling Your Story: Scenario Based eLearning
Once upon a time there was a big company who had offices all over the world. They also had lots of private information about their clients stored in many electronic ways. Most of their employees had access to at least some of this information. One day, some of that information was somehow shared with people outside the company. Well, as you can imagine, this wreaked havoc on the company, its employees and its customer s. Not to mention, it frightened many people not even affected.
Interesting story, right? We all remember this story. It stays with us. We repeat it to others. We take its lessons to heart.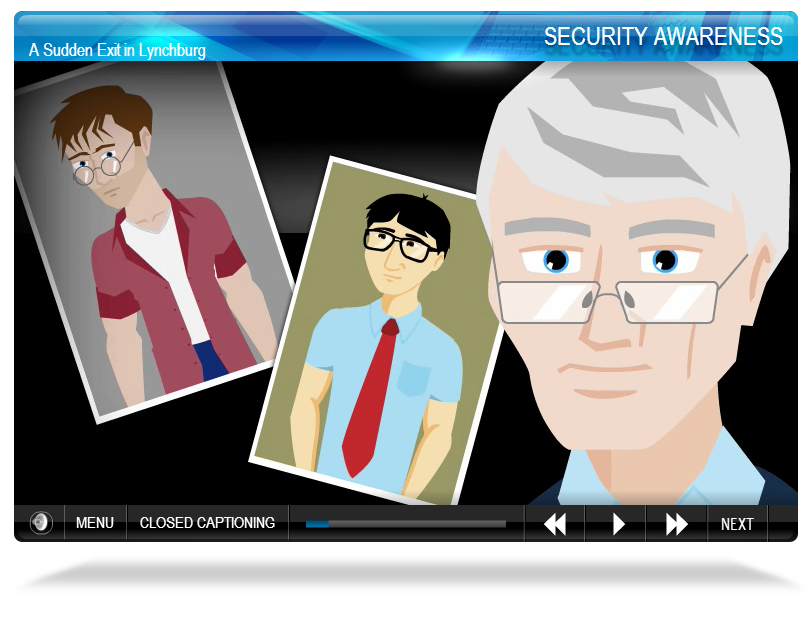 So how does this impact corporate learning? A client came to us with a similar potential situation and wanted to train their employees on security awareness. But they wanted the learning to be memorable and sticky. You know, those favorite catch phrases for most people involved in corporate learning and development. And, admittedly, this content could be kind of boring and repetitive stuff. Well, back to the story. We decided why not create a scenario around a corporate security breach. We'd bring in some characters, a thief, a detective, some victims and tie it all into the important learning points, policies and behaviors unique to this client. And, just as we hoped ( and kind of expected), the learners loved the story and even better, they remembered what they were supposed to remember. Security issues have been dramatically reduced and employees actually know what they are supposed to do.
See more about this course here: kmilearning.com/security-awareness-training
Story- telling and scenario based elearning narratives are very useful approaches for all types of content. We have used scenario-based videos within a story to help a client train employees on business continuity. Again, highly successful for the client and effective for the employees. Sales training is another great opportunity to create simulations for sales scenarios where the learner can experience the actual sales process. They can make decisions and test techniques and behaviors without jeopardizing their real sales opportunities. We've also created scenario-based training around customer service, leadership and management training, compliance and policies. You name it and I am sure we can find the right way to tell your story.
So what's your story? Let us help you turn your real-life scenarios into unforgettable learning.
Contact Margie Herron at mherron@kmilearning.com or 415-640-2552.
See our website at www.kmilearning.com
Also, subscribe to our YouTube channel at youtube.com/kmionline