The security of your organization depends on secure actions of every employee, every day. Universally, cyberattacks are on the rise and growing in sophistication. Employees must make the right decisions when faced with risks, and therefore they must be equipped with the most up-to-date and memorable cyber security training. Security awareness training for employees is something I think we can all agree is of utmost importance in today's day and age.

As a single unfortunate example, recent advancements in anonymous payment system such as Bitcoin and other cryptocurrencies have revitalized a type of malicious software known as "Ransomware". Ransomware will block access to your digital assets using military-grade encryption. The malicious software then demands payment for the key to decrypt those digital assets on your workstation or server.
According to some estimates, the vast majority of "phishing" emails are now armed with ransomware. Every member of your organization needs training to deal with malicious emails, malware, and how to ensure infections do not spread internally on USB drives or by connecting to rouge networks. The unintentional action of a single untrained employee can directly cause dire financial and reputational consequences for your organization.
Ransomware has many avenues in which it can inflict pain on your organization. Threat vectors such as Email, software, USBs, which are required for business operations but pose risks to your organization and therefore must be handled accordingly by company members trained in security best practices.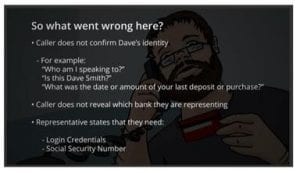 Infrared Security and KMI Learning have teamed up to bring your business a formidable offering to help train every member of your organization and arm them with the knowledge to use computing equipment safely and securely. We present to you the General Security Awareness Course, designed to provide security awareness training for employees and all other personnel. This e-learning module is beautifully animated and professionally voiced, and is designed to walk through key areas of security that pose threats to your organization.
Security awareness training for employees, such as this course use common workplace situations with memorable characters to explain the threats, and more importantly, the correct behaviors to minimize risks and keep your organization safe.
Topics include:
Building Logistics
Workspace Security
Secure Workstation
Software Security
Securely Browsing Websites
Handling Sensitive Data
Interacting with People
External Networks
External Devices
Working Remotely
The training takes about an hour to complete, and is well worth the investment for the piece of mind and assurance that your organization has been trained to handle the most common attacks. Try the free course demo today and see for yourself just how easy it is to implement in the workspace. For more information visit our website.