Software Advice, a division of Gartner and a trusted resource for software buyers, just named KMI Learning's LMS in the 2017 FrontRunners Quadrant for learning management software. FrontRunners evaluates verified product data and end user reviews from Software Advice, Capterra, and GetApp , positioning the top scoring products based on capability and value for small businesses.

According to the FrontRunners for Learning Management report, a product needed a minimum of 10 user reviews to be considered. Nearly 300 products were reviewed with only 25 top performing products chosen for inclusion. KMI Learning is considered a Pacesetter with a Capability score of 3.99 out of 5 and a Value score of 4.02 out of 5.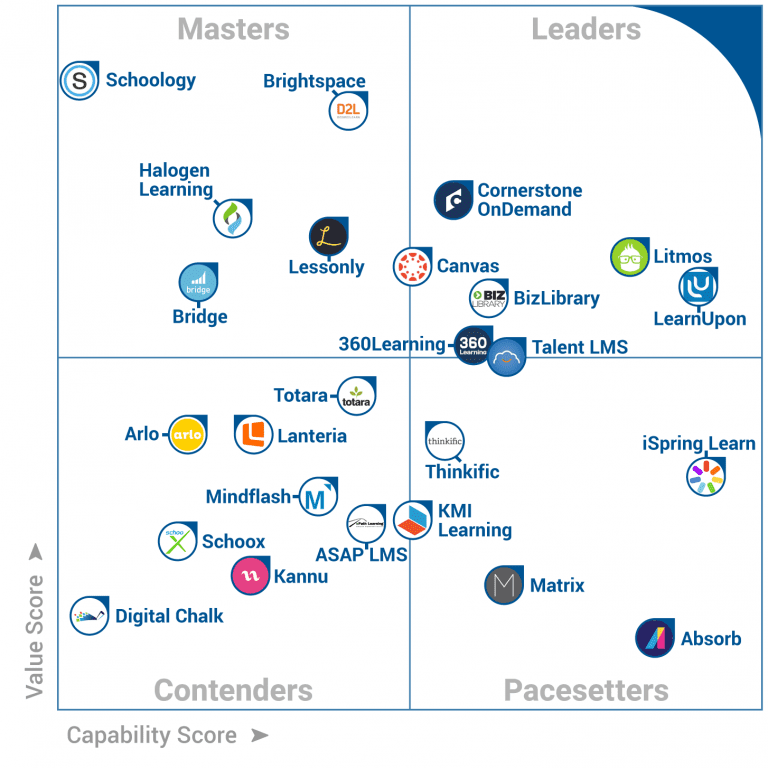 KMI Learning was chosen based on a strong set of capabilities and for having a strong performing product with the ability to provide specialized functionality, including:
User Management Tools – Users can be arranged in groups with access to different portfolios or site features. These groups can be segmented by custom user attributes defined by region, hire date, job title, etc. Users can be managed in bulk or through the administrative menu. Self-registration is also possible.
Course Management – Adding courses to the site is quick and easy. Multiple course formats can be loaded including SCORM, AICC and more. Live events, compilations, surveys and assessments are all possible.
Custom Course Creation – KMI's staff of course developers and designers are available to create all kinds of courses including highly interactive competencies.
Reporting – KMI's LMS includes over 30 standard reports and exports along with ad-hoc reporting that allow for reporting on just about any conceivable parameter. There is also a one-page dashboard covering the most interesting learning benchmarks.
Standards/Compliance – The LMS supports AICC and SCORM 1.2 course formats as well as xAPI or Tin-Can. As a result, the LMS ensures your courses can be used with many different training systems without modification.
Adaptability – The site can be completely customized for stand-alone implementations. For those looking for something on the lighter side, KMI Academy provides a shared implementation that offers the best of what KMI has to offer at a lower price.
To learn more about KMI Learning's LMS click the link. KMI Learning is excited to make the new list of FrontRunners for LMS Software on SoftwareAdvice!
FrontRunners scores and graphics are derived from individual end-user reviews based on their own experiences, vendor-supplied information and publicly available product information; they do not represent the views of Gartner or its affiliates.