Material handling and material transportation are wide spread fields of work and are a huge aspect of business across many different industries around the world. Whether you deliver packages, load freights, or sort mail, you are a part of the vast world of the material handling and material transportation work force. An unfortunate truth is that this type of occupation is one that is often subject to strain and sprain injuries to the back especially, which leads to missed work and injury claims.This makes it easy to agree with the fact that back injury prevention training is key in a safe work environment. In this post, we will discuss a case study, which exams the reduction in work related injuries within the United States Postal Service. Results were derived one year after introducing the patented PowerLift lower back safety training techniques and they might surprise you.

PowerLift has been utilized by approximately 210 USPS facilities as a means of back injury prevention training since its beginning. These facilities were gradually trained over the course of several years and during that time 14 facilities were followed statistically. The aim of the case study was to compare the number of strain, sprain injuries the year before the training and again the year after.
Prior to the initial training session, Dr. Mike Schafer (the founder of PowerLift) visited each site and documented the daily tasks performed by the postal craft workers. With this Dr. Schafer created a number of safety talks which illustrated in detail how to use the PowerLift technique for those tasks in the environment they would actually take place in.
Initial training was rolled out with the Train-the-Trainer initiative, which is designed to certify a group of well-established employees to teach the PowerLift back injury prevention techniques to rest of the employee population. After the initial training, the video shorts and Safety Talks were used as safety briefings on a regular basis to remind employees to use the PowerLift back injury prevention techniques and to create a culture based on material handling safety. The result was a significant change in work behaviors that are crucial to reducing the risk of work related injuries. Employees embraced the PowerLift training and were very much relieved to finally receive a training protocol that actually works in real life situations. One of the biggest factors that lead to the wide acceptance of the training was that they found, contrary to initial beliefs, the techniques do not take any extra time to use and actually made some of the tasks faster and much easier to perform.
One to two certified team members held classroom sessions, which were composed of five to ten postage workers who were introduced to five different PowerLift back injury prevention techniques of lifting, pushing and pulling. After the classroom instruction, the employees being trained were taken to the production floor for hands on training in the environment that they work in every day. The initial reaction of the employees was that the techniques shown might take too much time to accomplish and that they would not be able to maintain their usual production rate. In fact, it was found that as they became more proficient with tasks using the PowerLift technique, the production rate was not affected in the slightest and resulted in less fatigue because of the techniques inherent efficiency.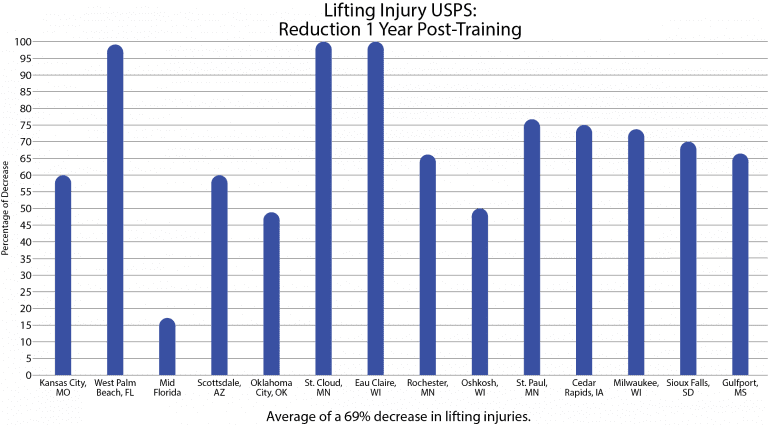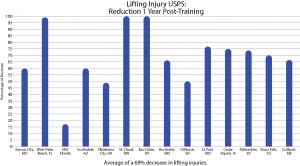 These USPS facilities also renewed their efforts at making safety a much larger priority in the day to day work environment with PowerLift at its core. Safety awareness continues to be a daily factor and is supported by weekly Safety Talk presentations, observation of employee practices, and the immediate training of new employees in the PowerLift techniques.
The results of this case study varied from 100% reduction in injuries to 17% reduction. The most telling statistic is that all 14 branches saw an average of 69% reduction in strain/sprain injuries. But what about the facility that only saw a 17% reduction? Notwithstanding the fact that this particular facility was aiming for a decrease of only 3-4% in lifting injuries, this seems too low to us when compared to the other 13 facilities. It has become more and more apparent over the years that with any type of organization you get back what you put in, in terms of good reductions in injuries. Low achievers in our experience are those who show a safety video once a year and expect positive results with little to no effort. Back injury prevention training is an integral aspect in the effort to create and maintain a safe and healthy work environment and that is why PowerLift and KMI Learning have teamed up to bring you the New Online Train the Trainer Course. The new Online Train the Trainer Course allows your employees to become certified PowerLift trainers remotely and begin your path to a work environment based on injury prevention. To learn more, visit the PowerLift website.