e-Learning Trends No.5
This is an e-learning trend for visionaries. It is for the people that are not satisfied with the standards, with the norm. Custom e-learning is a revolution for corporate employee training.
Coming to an end with the e-learning trend series today we will get into MOOCs
MOOC is short for Massive Open Online Courses, which are created for large numbers of learners. Big Universities often use MOOCs and in more recent years businesses and organizations have started using them as well.
e-Learning with MOOCs
Every employer knows the truth about employee training. Once the onsite training sessions are over, nobody will review the handouts or read the 'homework', EVER! Many companies have accepted that as the reality, but it does not have to be! It is time to rethink.
Make Learning Special!
Get e-Learning
MOOCs are a growing trend. First of all we are talking MASSIVE Open Online Courses, now that does not necessarily mean you have to be a massive corporation to use this technology. Imagine that your company had an extensive e-learning system, with great custom content, covering all aspects of your training. Your employees would, in a game-like way, learn about all your processes, policies, values and brand. New employees would turn quickly into brand ambassadors and skilled workers and large groups of the staff can be trained at the same time, without extra cost or disruption of the workflow.
What the professionals think
"In a 'Future Workplace' survey [from 2013], completed by 195 corporate learning and HR professionals, 70 percent of respondents said they saw opportunities to integrate MOOCs into their own company's learning programs."[1]
In the same survey these professional recommended following: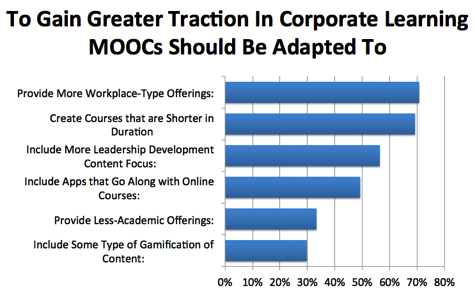 [1]
Forbes magazine forecasted this trend of e-learning back in 2013 when the article "How MOOCs Will Revolutionize Corporate Learning And Development" was published. It looks like it might be time for this trend to take off.
The Take-Away
MOOCs are one step into the future. By 2020 "50% of the global workforce are going to be" millennials and "they are demanding more opportunities for learning & development"[1]
Think about tomorrow and think big. e-Learning will give you the opportunity to turn around your training, improve the quality of your work and workforce as well as increasing your brand awareness with your staff and in the market.
As a visionary, you need to think beyond the rim of your plate. Give your company an upgrade, go "massive" and move ahead of the game.
---
[1]http://www.forbes.com/sites/jeannemeister/2013/08/13/how-moocs-will-revolutionize-corporate-learning-development/